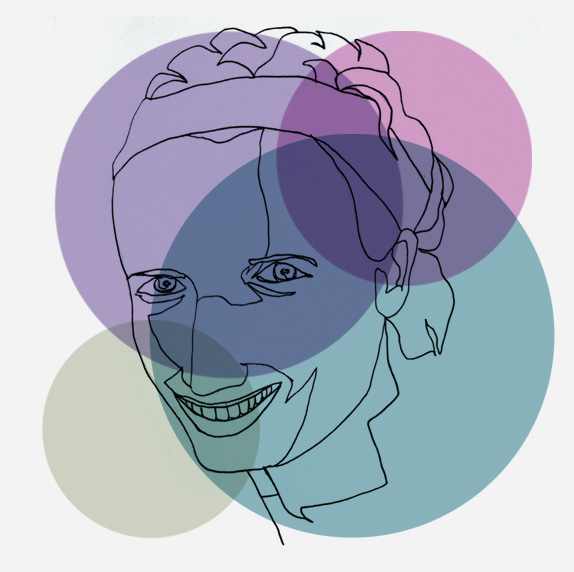 The Power of a Girl's Story
The ability to read stories, write stories and share stories makes us powerful in the world. With literacy, we have a voice, a community and a connection to the rest of the world, and an all-access pass to the world, our stories as a permanent record, and other people's stories for us, to inspire, change and make us grow. The stories we tell and the stories we read transform the world, and transform us. Stories make us strong. But hundreds of millions of girls around the world do not have an opportunity to become literate and to use their stories to create permanent record of their lives, hearts and dreams. I created LitWorld, a global literacy non-profit, to advocate for girls as readers, writers, and storytellers.
I wanted to solve for the catastrophe happening right now around the world. Around the age of 10, girls start disappearing from school to help with housework, to take care of siblings, or to be married and have children. Around the world, 65 million girls are not in school. Today, nearly a quarter of all girls between the ages 15-24 have never finished primary school.
What a profound loss for each of them, and for us, for our world. The longer we take to get every girl in school, the more we miss – from scientific discoveries to beautiful music to national leadership to economic empowerment to inspire future generations and impact all of society.
I see a simple way to make literacy possible for every girl in the world. I want girls to understand that their own stories matter, to them and to others. LitWorld's LitClub program is based on this foundational ideas that each person's individual story can fuel literacy. We gather girls together in a safe space with a mentor from their own community in a space called LitClub. At LitClub girls receive access to resources like books and technology, sanitary supplies and food that will sustain and nourish them and make it possible for them to learn. They also get access to the power of each other's stories. They feel they are not alone.
They receive access to the strength of a loving LitClub Mentor, an older woman or girl who listens and coaches them to share their stories and read the stories of others. Having a community of friends and strong mentors allows girls to talk through challenges, to celebrate triumphs, to explore idea and potential paths for their futures.
The power of the LitClub is that it is portable and mobile so that it is there when the girls need it most and can fill in during out of school time. LitClubs can be in temporary bamboo schools in Nepal after an earthquake, or in the midst of Syrian refugee camps in Jordan. They also meet in Detroit Public Schools and vibrant community centers in Harlem. The most powerful part of LitWorld is that we are using what every girl, everywhere already has – stories of her own – to transform their own lives. Research has shown that people learn to read and write much faster and more easily when they use their own stories to practice not only the power of their voices but what it feels like to decode and comprehend text: text of their own. Today LitWorld programs run in over 17 countries around the world.
I want to tell you the story of Diana, a member of the very first LitWorld LitClub in Kibera, Kenya. When Diana joined the LitClub, her mother had just died from HIV/AIDs and Diana carried a picture of her mom in her pocket, gripping it tightly wherever she went. As she got immersed in the world of stories, and felt safe in her LitClub community, she started to own her stories, to feel comfortable, confident and curious about the world. She began to tell the story of her mother and of herself, in powerful ways, that brought her courage to the fore, that inspired those around her.
When I shared with Diana the first chapter of E.B. White's "Charlotte's Web", she said: "Pam, the part that really changed me was when Fern pulled her father's arm as he went to the barn to kill little Wilbur, to stop him, and she did. This passage changed me because I had never seen a girl do this:  I had never seen a girl stand up to a man. I want to live a life like that."
With the power of other stories and the power of her own, Diana has become bold like Fern. Today she is thriving at her high school and has become a LitClub leader in her own right. During her LitClub years, with the support of her friends in Kibera, and their affirmation for her story of loss and then courage, and in the pages of all of the books she has read to find heroines who model a new world for her, she has found her voice in the world. And now, she is the change maker.
This is what literacy can do for every girl, and for all of us. Literacy helps us see that we can author our own independence, hopes and dreams. This awareness compels us to move forward, striving towards possibilities that are no longer beyond our reach. LitWorld girls around the world are using their stories to build their communities so they become stronger than ever before. Let's not miss the chance to hear the stories of girls in the world. Let us create worlds of these stories so that Diana and all the girls who come after her can be the story, be the change we want to see in the world.
PAM ALLYN
EXECUTIVE DIRECTOR & CHIEF STORYTELLER OF LITWORLD