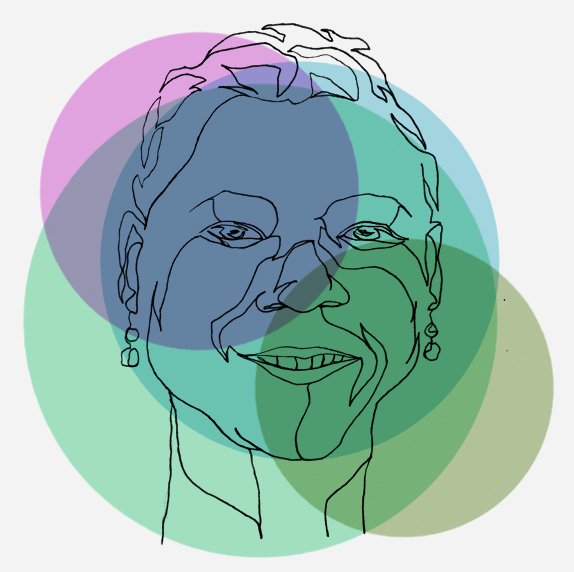 A grandmother's gift
I was born nearly forty five years ago in Masaka, Uganda, to my mother Hilda Rwabazaire Paqui, who at the time was a broadcast journalist and my father John Ruganda, a renowned playwright. However my story really began in the early 20th century with my grandmother and her two sisters. My great-grandfather was a chief whose land would traditionally have been left to his son, however, as a man ahead of his time, he chose to appoint his daughter, my grandmother Kereni Rwabazaire, as his heir and sent his two other daughters to attend university, making them among the first African women to do so in Uganda. My great-aunt Yemima Ntungweriisho is notable for having translated Rip Van Winkle into our mother tongue of Runyankole, in 1966, and her sister Naome Bishaka served as the Chairwoman of the Mother's Union for the Ankole Kingdom for many years. The results of my great-grandfather's decisions created a lineage of capable and accomplished female leaders, the latest being my precocious five-year-old niece, Sydney, who I am certain will become a real force to reckon with in the future. This rich history and the understanding of the importance of my continuing the legacy of the women before me and serving as a role model to those who come after is the foundation upon which I have built my career. I moved to the United States when my mother was posted to the Uganda Mission to the United Nations in the 1970's and we subsequently stayed in New York, where I attended the United Nations International School. For those 13 years, I developed friendships with children from all over the world, many of whom I remain close with today. This environment instilled in me a profound respect for all cultures and the belief that we all have a purpose irrespective of our standing in society or country of origin.
During my youth, I had the privilege of traveling to many countries in Africa, Asia Europe, the Caribbean and North America, the most memorable being when I was nine years old and accompanied my mother to the Second International Women's Conference in Copenhagen, Denmark. Being in a room with so many powerful women from across the globe, championing the rights of women everywhere, left an indelible mark on my young soul. I developed the confidence to successfully obtain two degrees, a career in Corporate America for ten year and then to begin my own consultancy firm, through which I have, over the last ten years, advised hundreds of NGOs focused on gender rights, youth development, educational and health access in the U.S. and on the African continent. It led me to serve in a leadership role on the invitation-only President's Council of Cornell Women and for two years as an Entrepreneur-in-Residence at Cornell University, advising emerging traditional and social entrepreneurs about their businesses.
Most recently, it led to my appointment as the Chief Executive Officer of Africa Tikkun USA, the U.S. office of the South African NGO, Afrika Tikkun. It is such an honor to have this opportunity to lead the building of our brand in the U.S. by telling our story of 20 years of impact and the business plan for hope we are creating for the future. Our 600+ employees in South Africa work to break the cycle of poverty, through our holistic Cradle-to-Career model, investing in the sustenance, education and social development of our over 19,000 disadvantaged children, 59% of whom are girls and young women, from early infancy through young adulthood and into gainful employment, thereby enabling them to become the leaders of tomorrow.
While my commitment is to the development of all of our children and youth, I am particularly proud of our high percentage of female beneficiaries, particularly given that the communities we serve consist of primarily female-headed households and gender-based violence is unfortunately the norm. With such a focus, we have an opportunity to propel these young women into economic success and help to address the challenges faced by girls and women in our communities.
While I am very proud of my own accomplishments, I also value the multitude of opportunities I have had to mentor others. I fundamentally believe that having been given so many blessings, I too must be a blessing to others and pay forward all that I have been fortunate to receive. If we all live in this manner, the ripple effect will begin to reverse the negative forces that keep so many from realizing their potential and ultimately robs the world of their greatness.
I hope I have provided you with some insight into who I am, what I stand for and why I do what I do and that it motivates you to pursue your own purpose, knowing that you possess the power to pursue your own purpose and positively impact others. It will be a journey full of challenges, but if you surround yourself with the right support system, you can find success in whatever you pursue. I thank you for reading my story and want it to inspire you pay to pay it forward by sharing your own story of success with others.
Warmly, LIZ NGONZI CEO, AFRIKA TIKKUN USA
Twitter: @LizNgonzi | Website: AfrikaTikkun.org